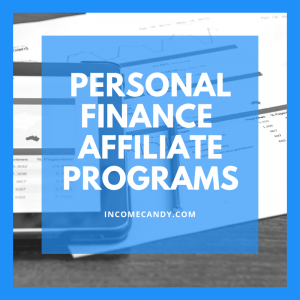 Are you looking to monetize your personal finance blog?  The good news is you've chosen a niche that converts and pays really well.  There are lots of people out there looking to sort our their financial situation.  And you can help them and offer them quality tools.
I ran a blog in the personal finance space for many years, and it was one of my most profitable ventures.  I'm going to share with you the top paying affiliate programs in the personal finance niche.
What's a Lead
The programs that i've listed below payout per lead.   If you haven't worked with affiliate programs before, this might be confusing.  A lead is when someone inputs their email address or registers for a service.  Basically if someone clicks through your link, and registers at one of the services below, you'll earn some revenue.
I've found that Pay Per Lead marketing is easier to make money with compared to pay per sale.  People are more likely to sign up to a free service like Swagbucks as opposed to paying for a new credit card.
Signing up to FlexOffers
To use these affiliate programs, you need to be a member of FlexOffers.  This is an affiliate network and it's free to join.  You'll need a website before you can join any affiliate network.  So start by building your website first and then work on monetizing it.
My number one tip for affiliate marketing is to stick with one network before moving onto another.  There are lots of offers on FlexOffers for you to promote.  You don't need to sign up with a dozen different networks.  This will spread out your income and make getting a payout less likely.    And if you build up your revenue on one network, you'll often be offered special bonuses and increased payouts.  So start with FlexOffers and then move on as you grow.
The Best Personal Finance Affiliate Programs
Acorns Affiliate Program – $8 per lead
Acorns is a personal investing and savings app.  It works by transferring your spare change into a diversified investment portfolio.  It's a great way for people who haven't started saving or investing to get started.  New users can get started with as little as $5.
Apps like Acorns are going to be the future of investing and saving.  And I believe that everyone should be using something similar.  Acorns helps users save automatically in the background.
The Acorns Affiliate program will pay $8 per lead.  There is a "refer a friend" feature in the app, however this only pays $2.50. So it makes much more sense to promote the affiliate program.
Swagbucks Affiliate Program – $4 per lead
Swagbucks is a site that pays people to complete surveys, shop online, and search the web.  It's a great way to earn a little extra income on the side.    One of the best ways to save more, is to make more.  And so you can promote Swagbucks as a way to earn extra side income.
The Swagbucks affiliate program pays $4 per lead.  If you are a member of swagbucks you can also refer people via your account, however this method pays less in my experience.
Personal Capital Affiliate Program – $100 per lead (with conditions)
Personal Capital is an app that gives people an overview of their financial situation.  It automatically tracks all their accounts and investments.  It's a really powerful tool for those looking to get their finances under control.
The Personal Capital Affiliate program pays a massive $100 per lead.  The catch is that the user needs to link up $100k worth of assets to the app.  This means they need to have at least $100k in their investments or banks accounts.  A lot of people will have this much, so this program can be very profitable.
Money Tips Affiliate Program – $4 Per lead
Money tips is a free credit score service.  Knowing your credit score could potentially help you negotiate better lending rates.  It's a good thing to know.
The Money Tips affiliate program will pay $4 per lead.  As it's a free service, this should be an easier program to promote.
Trim Affiliate Program – $4 per lead
Trim is a virtual personal assistant.  The app works to constantly save the user money.  It does this my cancelling old subscriptions, setting up spending alerts, and automatically fighting fees.  It's a great way to save money by basically doing nothing.
The Trim Affiliate Program pays $4 per lead when the user connects the app with their bank account.
How to Make Money from these Programs
Here is my number #1 tip for making more money with these programs – use them!  People love to hear about personal experiences.  If you're running a personal finance blog, then download these apps and use them.  Review them and share your experiences.  Promoting affiliate programs in this way, is so much easier than trying to post about things you've never used or tried before.    People are searching google for reviews and advice on how to use these apps, so if you want to make money in the personal finance niche, all you have to do is share your experiences.