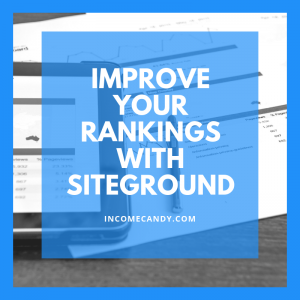 Over the past couple of months, I've been moving my affiliate sites over to Siteground.  I've been able to reduce my page load times and increase my page rankings to generate more traffic and revenue.
Did you know that you can improve your SEO rankings simply by moving your website from your current host to Siteground?   That's because Siteground has optimized their hosting for speed and include a bunch of features that will make your site faster and more secure.
If you're currently hosting your site on standard shared hosting plan, then chances are you're leaving traffic on the table.  You could improve your rankings and traffic today just by moving your site over to Siteground.  Read on to find out how:
Speed Affects SEO Rankings
Site speed is a major ranking factor.  Slower sites are penalised and ranked below faster sites.  Site speed is also one of the easiest things you can improve.  But if you're using the wrong host then no matter how much you optimize your site will always be held back.  Siteground has some really nifty features that will make your site super fast.
SSD Drives
Siteground uses SSD drives for all of their plans.  SSD drives (solid state) are much faster than the older and cheaper hard drives.  One of the biggest slowdowns on your site can be the "host response".  If your host isn't using SSD than that might be a reason why.
SuperCacher
One of the unique features from Siteground is Supercacher.  It works with WordPress, Joomla and Drupal sites.  It basically caches dynamic content in a super fast cache.  This means when a visitor hits your website, a static version is served without needing to go through the database.     It also uses memcache to further speed up your site.
As well as speeding up your site, it will also increase the number of visitors your site can handle.  The first thing to fail under load is a database. So by bypassing the database, supercacher will keep your site online and it'll be able to handle much much more traffic.
Supercacher was developer by siteground and is exclusively available for siteground customers.
1 Click Cloudflare
Cloudflare is a CDN that will serve your CSS, JS and images from servers located close to your users.  Using a CDN is an easy way to decrease a sites loading time.  Siteground lets you enable Cloudflare with 1 Click.
PHP Version
If you run WordPress, using the latest version of PHP will dramatically speed up your site.  Old versions of PHP (the programming language used by WordPress) are really slow.  Since version 7, PHP has been much faster.  Siteground lets you select the version of PHP your site uses and they support the latest versions soon after they are released.  One of the most annoying things is having to wait months for the latest php support.  My old host took over a year to add support for php 7.
Bluehost for example only supports PHP 7 while the current version that siteground supports is 7.3.  7.3 is faster than 7 by quite a bit.   If your blog is hosted on bluehost it's going to be slowly simply because it's using an older version of PHP.
NGINX
There are two main servers Apache and NGINX.  Both are very good, but NGINX is in my opinion faster.   NGINX was designed to handle lots of traffic.  So your site won't slow down as it grows.  Siteground uses NGINX servers for all shared hosting plans.
SSL Affects SEO
Siteground lets you setup a free SSL certificate using Lets Encrypt.  And you can do it though cpanel.  Gone are the days of having to pay for a secure website!
Google has indicated that they will penalise sites that don't support HTTPS/SSL.   I always recommend making sure your money making sites use SSL.  And the easiest way to do that is through Siteground and Let's Encrypt.
Siteground Plans
Siteground offers three shared hosting plans.  I recommend going with the GrowBig plan.  Which is the middle tier.   The reason being it includes the supercacher which will have the biggest impact on your site speed.  Using Supercacher and Siteground I was able to get a wordpress site loading in under 1.0s.  This is better than 95% of sites and will help you rank well in Google.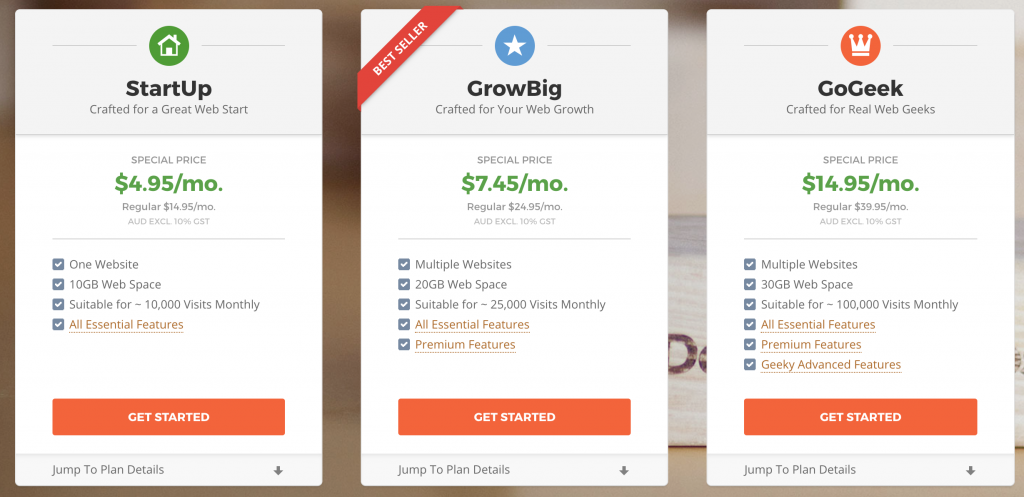 Moving my Affiliate Sites and Blogs to Siteground
I've been moving my affiliate sites to Siteground for one reason – speed!  I did a lot of research and looked at lots of genuine reviews.  And siteground was consistently touted for being faster than Bluehost of Hostgator.   When it comes to affiliate marketing or blogging, speed matters!  You can outrank competitors just by having a faster website.  And as Siteground is no more expensive than other hosts, it doesn't make sense to start a blog or affiliate site elsewhere.