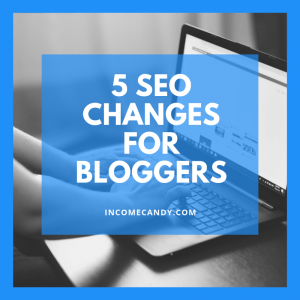 Every profitable blog needs search engine traffic. Getting a blog to rank well in Google doesn't always require a ton of backlinks. In fact just making some simple changes on site you can dramatically improve how well your blog does.
Here are some simple things you can do that will improve your SEO:
Add an SSL Certificate
Google now penalises domains that don't use SSL/HTTPS.  The good news is that adding SSL to a site is now pretty easy.  There are a few ways to generate an SSL:
Buy one manually from somewhere like Godaddy or Namecheap
Use Cloudflare (which gives you a free SSL certificate)
Generate a free certificate from LetsEncrypt
Good web hosting companies also offers support for LetsEncrypt.  For example with Siteground you can automatically setup a SSL cert from LetsEncrypt through the control panel.  And it will even automatically renew for you.  
Start using Internal Backlinks
Internal backlinks are one of the most powerful ways to increase your search engine rankings.  In my opinion, external backlinks are no longer as valuable as they once were.  Google now uses more signals to determine your ranking.  But I have found that by using internal backlinks I've been able to massively increase my search engine traffic for long tail keywords.
I like to include between 1-3 backlinks per post I write.  I just link to other articles I've written and I tend to link to the "money making" articles more often.  
By linking to related content from within your posts you'll also potentially keep visitors on your site for longer.  This is super important and Google uses this as a ranking factor.
Switch to SEO optimised hosting
Fast websites rank above slow websites.   So how do you make your WordPress blog load faster?  Switch to a better host.  You can install caching plugins and use a CDN but if you're using a slow host your site will never be able to compete with the fastest sites.  
I use Siteground for my money making sites.  There shared hosting product was built for speed and I've found it to be way faster than dedicated WordPress hosts!  They use the latest versions of PHP (which are super fast),  ssd drives and static caches.  This all adds up to really fast WordPress sites.  And the good thing is that it's not even expensive.  
Add and Upload a Sitemap
How will Google know what to index if you don't give it a handy sitemap!  You can use a plugin to create a sitemap in WordPress.  Then I recommend signing up for Google's Search Console.  This will let you upload your sitemap and it'll tell you how many pages of your site Google has indexed.  
While having a Sitemap isn't essential, it's a great way to make sure that all your pages get the best possible chance of being indexed.
Install an SEO Plugin
I think that WordPress out of the box does an ok job of being SEO friendly.  But I'd recommend installing an SEO plugin just to give you a helping hand.  There is no need to pay for any plugins.  The free ones will word just fine. I use Yoast.   This plugin will help you write posts that are SEO friendly.  You basically get a checklist for each post on what you need to do.  If you follow the checklist, chances are you're doing everything needed to get better rankings.
If you want to take your SEO to the next level then I'd recommend using a tool like SEMRush or Ahrefs.  These tools will give you keyword ideas as well as helping you track your competition so you know how to rank better.  These are advanced tools and better for intermediate bloggers.