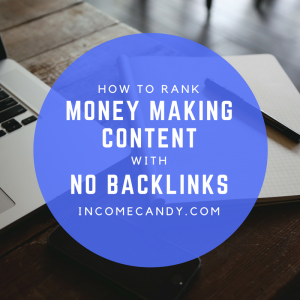 Did you know that you don't need hundreds of backlinks on high profile websites to rank at the top of Google.  I've used the following technique to rank money making content for some of the most competitive niches.    And i've done it without any SEO outreach or backlink building.
So if you want to start making money with Affiliate Marketing, or by selling your own products, don't start by building backlinks – start by creating the type of content that gets ranked no matter how many backlinks you have.
Here's my guide to writing money making content:
Write over 1000 words
Content length seems to be an important part of ranking content for maximum search traffic.  Longer posts will tend to be pushed a little bit higher.   I aim for writing at least 1000 words on my money making content – i.e the content that will sell something to the user.  On support posts I make sure they are at least 500 words long.
Gone are the days when you can write an article of 300 words and expect it to rank well in Google.
You want to keep the user engaged as long as possible.
Use multiple images
I've found that posts of mine which contain multiple images tend to perform a bit better then posts that have a single image.  Google wants to rank content that appeals to the reader.  And readers like images.  Long posts without any images are hard to read – and in the age of disctraction – will cause users to click back.
I like to scatter images related to the content through-out the post.  I'll include captions as well to help add context.
Break the post down with headings
Properly structuring a post is as important as the content itself.  A single, big, block of text is not going to appeal to the reader.  I like to use lots of headings and subheadings.
When writing posts, I often start by jotting down the headings first and then filling in the content afterwards.  This way I can figure out the structure and whether or not I'm going to be able to write enough content to get over 1000 words.
From an SEO perspective, using Keywords in headings is also seen as important.  Just make sure that your headings don't feel like they've been stuffed with keywords.  Google is getting better and better at detecting keyword stuffing.
Add Lists
Lists are an easy way to jump to the top of the Google rankings.  Why? Because Google is able to extract lists from an article, and display it inline with the search results.
I've had articles which rank at number 3-5 on the first page of results.  But because they've contained a useful list, the content from my article will be displayed inline at the top of the Google results.  It looks something like this: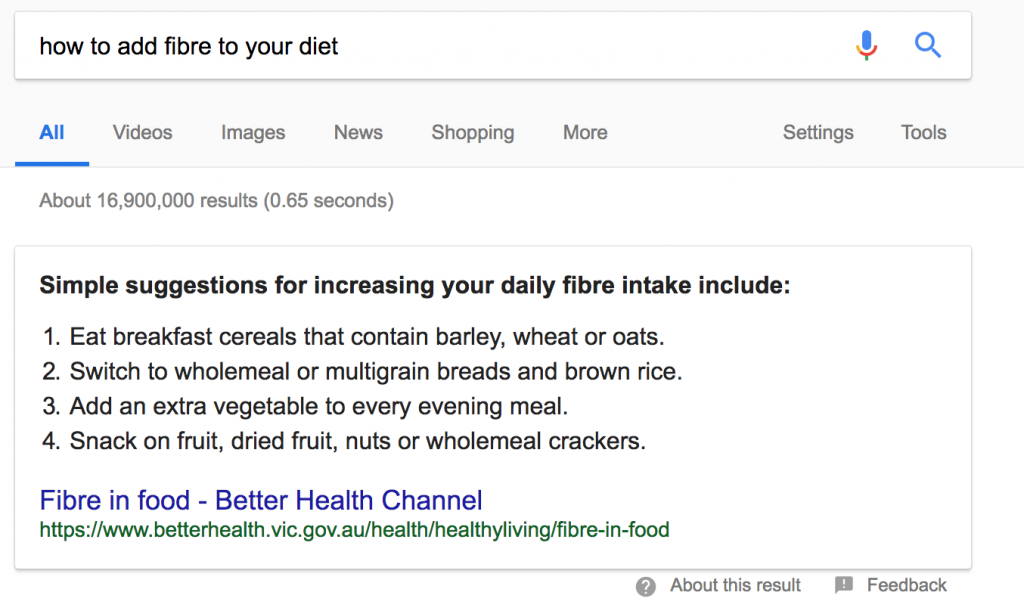 In this example, that article is number 2 on Google but is shown above the number result, and then again at spot number 1.  That's some super valuable placement.
To get listed like this, include a list within your article.  If you put the list towards the top of the post, and then go into more detail for each list point at the bottom, you'll potentially have a perfect article.
Google will often display list type snippets as answers to common questions.  Which leads onto my next point…
Answer Questions
When I'm looking to target a niche, the first thing I do is write a list of possible questions I have.  These questions form the basis of most of my content.  People use Google to have their questions answered.  So if you want to rank, you need to answer these questions.
To help generate ideas, I'll type a question into Google and then use Google's suggestions to generate more content ideas.

Use Internal Links
Internal linking is super powerful.  And people don't do it enough!  I like to put in 4-5 links to other pieces of content on my site, in every single post.  This has two effects:
Google uses internal backlinks to rank your content –  Google wants to know what content on your site is the most valuable.  And it's often the content that has the most internal links to it.  Google even shows you this data on the search console for webmasters.
Users will spend longer on your site – if you link through to various pieces of interesting and related content from within each post, you increase the likelihood visitors will visit more than one page.    This is very important.  There is a correlation between the number of pages a user visits on your site and how high it ranks.
Make sure your internal links aren't spammy and are natural.  Don't link to the same piece of content using the same keyword.  Use different keywords.  Don't worry too much about what keywords you are using – the link is the most important thing and making sure it fits with the content.
Use Intent Keywords
This is the number one mistake people make.  They try and target very general keywords instead on intent keywords.  For example if you have a health blog which sells a fibre supplement, don't target the keyword "fibre".  Instead target a keyword like "Easy ways to get fibre".  This keyword has intent – the user wants information, and you can give it to them.
Not only are these keywords less competitive, but i've found that sites with zero backlinks can rank well for them.
In Conclusion
So these are my top tips for crafting money making content that will rank without backlinks.  Don't expect your content to rank overnight.  And don't expect you'll see results with a single post.  This method works when you write a large amount of content.  Such as a 1000 word post every week.  The method works because Google sees your content as a treasure trove of knowledge that goes into more depth then any other source.
This method does take practice and time.  But once it gets going it is so rewarding.